November 8, 2019
The following article was originally published in the Fall 2019 Silicon Slopes Magazine.
SafeUT is far more than an app; it is a mental health support system that acts to provide professional help for youth in crisis. The app is a free statewide service providing real-time crisis intervention to Utah's students, parents, and educators.

Crisis help can be provided through texting, which factors into SafeUT's success with youth more comfortable texting than talking on a phone. Use is 100% confidential, and crisis line counselors do not inquire about identifying information except in emergency situations. SafeUT has been recognized nationwide for its effectiveness in saving lives and de-escalating potential school incidents.

SafeUT allows students to open a two-way messaging service with licensed clinicians, call a crisis counselor directly, or submit confidential tips to school administrators on bullying, threats, violence, etc. The app is staffed by trained crisis counselors at the University Neuropsychiatric Institute (UNI) 24 hours a day, 365 days a year.
The program was developed with funding from the Utah State Legislature in collaboration with the Utah Attorney General's Office, the University Neuropsychiatric Institute (UNI) and U of U Health, the Utah State Board of Education, and the Utah Anti-Bullying Coalition.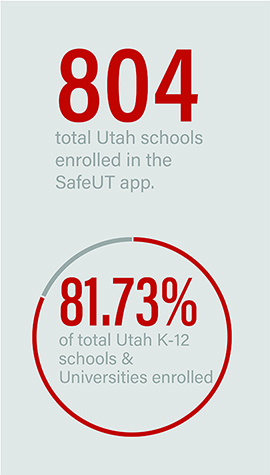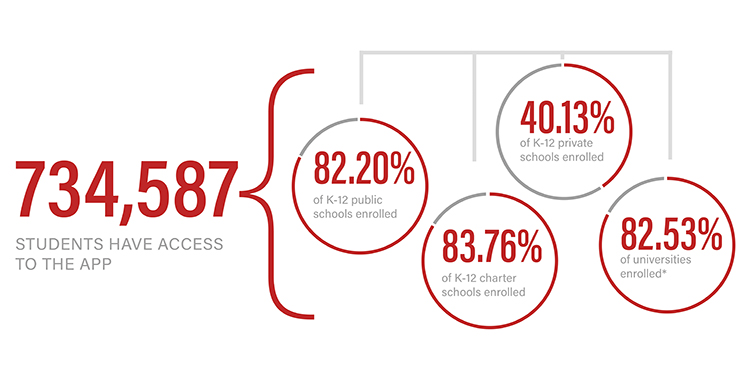 Enrolled schools are listed within the SafeUT app and school administrators are trained to handle submitted tips received through the app. At the end of the 2018-2019 academic school year, 81.73% of all Utah K-12 schools and Universities (including public, private, and charter) have been enrolled in SafeUT. All tips submitted through the app are immediately reviewed by UNI staff. Non-urgent tips are sent daily to the appropriate school administrators, and tips of a more threatening nature (including violence or planned school attacks) are triaged by crisis counselors who may involve law enforcement and administrators to quickly resolve the crisis. During the 2018-2019 academic school year, the SafeUT app received tips about 245 unique potential school threats, which includes reports of explosives, guns, knives, and planned school attacks.
"Since adopting SafeUT in our school, we have not had a student take their own life in over 3 years, I credit SafeUT with that amazing statistic." – Brian McGill, Principal at Alta High School
PLANS FOR EXPANSION
In 2018, SafeUT expanded to Utah higher education institutions and Utah technical colleges. In 2019, there are plans to expand services to the Utah National Guard and the The SafeUT Commission is currently working with several states to implement similar programs.
University of Utah Health Plans is a proud partner and advocate for the SafeUT program. SafeUT is a phenomenal example of how mental health care is all about meeting those in crisis right where they are.
"Removing the stigma surrounding mental health care by providing better access to mental health professionals and resources is a main priority for us now and in the future. As part of this initiative, we will be the new behavioral health plan provider for Summit County, UT with plans to expand into other counties in 2020." – Russell Vinik MD, Chief Medical Officer, U of U Health Plans
A HUNDRED THANK YOU'S
"A young LGBTQ+ student came to our booth and whispered to me, 'Do you actually work with SafeUT or are you a volunteer?' I responded that I do work here and he continued to tear up and tell me, "Thank you, thank you, thank you, a hundred thank you's" and proceeded to hug me and continue to thank me. He said he used the app when he was at his lowest and thanks to our advice and resources he has been able to get help and support." – A SafeUT Worker
Read the article in the 2019 issue of Silicon Slopes Magazine here.